One of the first things you need to do when starting a business is learn how to create and issue invoices. After all, they're the single most important document guaranteeing that you get paid for your goods and services. 
However, the best practices for invoice creation are always changing, so whether you're about to make your first invoice or you've been doing it for a while, it's a good idea to evaluate your processes and ensure they're as efficient as possible. 
In this article, we'll introduce you to all the relevant terminology, explain the importance of invoicing, show you how to design and create your professional invoices and explain the four most efficient invoicing solutions on the market today. 
If you're interested in understanding the distinction between a purchase order and an invoice, delve into our detailed article on this topic for a comprehensive overview.

What Is an Invoice?
The question "what is an invoice" can be answered in multiple ways. Broadly speaking, an invoice is the single most important financial document you'll encounter in your business. But the more specific invoice definition would be "the document you issue your customers as confirmation of their purchase, as well as a payment request".
What Does an Invoice Look Like?
Next, let's look at what "invoice" means when put into practice, or better yet, how it looks. Invoices have to contain a lot of important information to be legally binding. Below, you'll find everything you should include on your invoice – numbered and explained accordingly.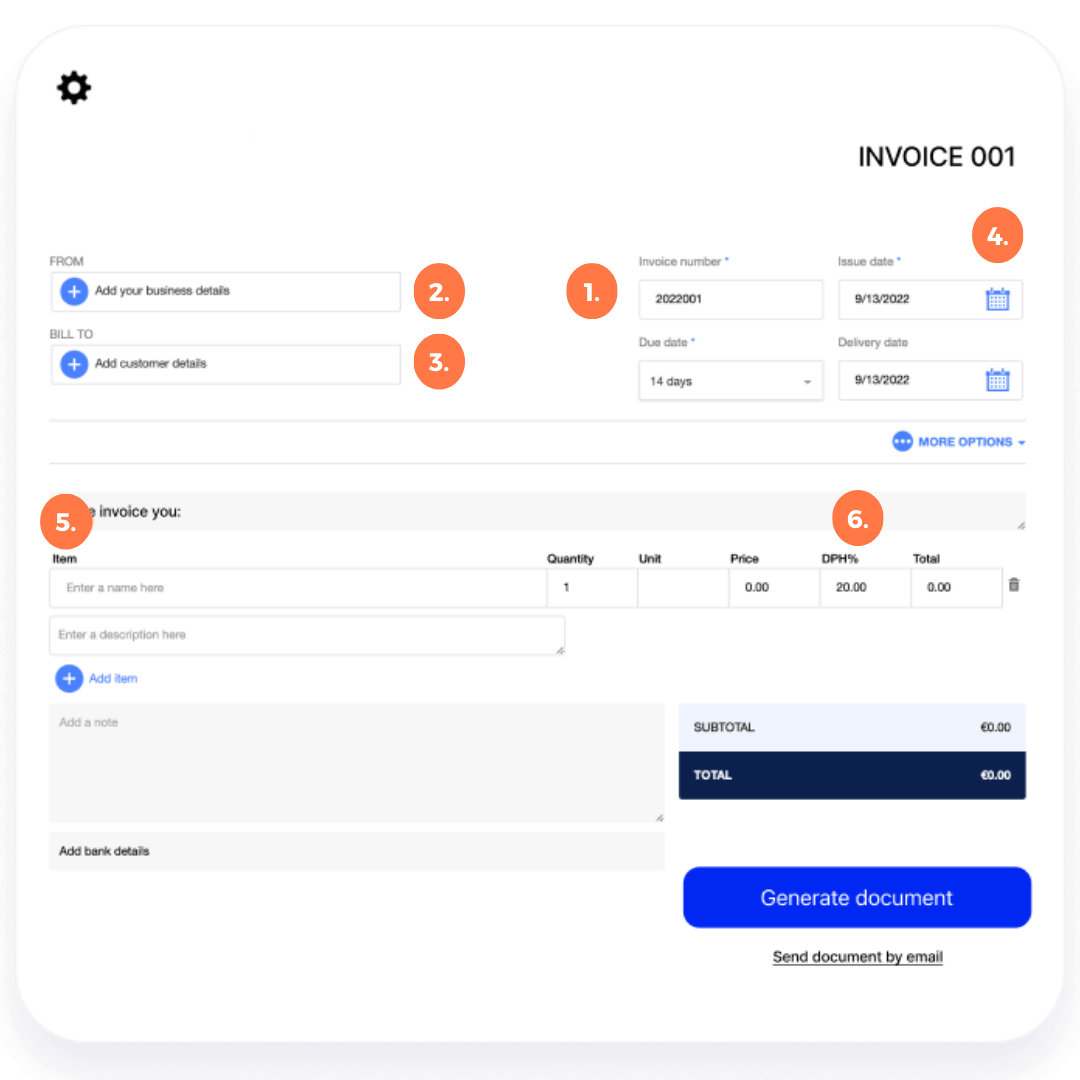 Invoice Number & Name:
Each invoice must include a unique identification number. Typically, this combines the year and the invoice's number (i.e., 2023001).
Furthermore, depending on the customer's country of origin, you may need to use a different name for the invoice according to local legislation — for example, VAT invoices in the UK or tax invoices in Australia and New Zealand.
Your Business Information:
All your invoices must include your business information, including your company's name, address, contact information, and identification number.
Customer's Business Information:
Similarly, as in the previous step, you'll want to include your customer's company's name, address, contact information, and identification number.
Furthermore, depending on the customer, you may need to include a TIN (tax identification number). This is particularly relevant for non-profit and child-care service industries.
Issue & Delivery & Due Date:
Each invoice must include when it was issued and delivered for legal and taxation purposes.
List of Services or Products Delivered: To help your customers rest easy knowing that you're not scamming them, you should include a list of all products or services provided, their amount, price per unit, and total price per item. You can also add a description underneath each item to make the invoice (and price) as clear as possible.
Total Price:
Your invoice should include the total price at the bottom of the page and any taxes or extra costs the customer needs to pay.
Want to ensure your invoices have a professional touch? Discover what makes an invoice stand out by reading our comprehensive article 'What Does a Professional Invoice Look Like?' Dive in to uncover core parts, best practices, and examples that can improve your invoices almost instantly!
Why Are Invoices Important?
Invoices are important for a variety of reasons. First and foremost, they serve as legal agreements between you and your customers, binding both parties to fulfill their respective obligations – the provider delivering all products/services promised and the customer paying the full price within the timeframe specified. 
Should either party breach the agreement, invoices can be used as proof in legal disputes, helping protect your company's and customers' interests. This function is important for any business, but it's especially vital for small businesses, where revenue streams are smaller and chances of encountering non-payers or fraudsters are significantly higher. 
Furthermore, invoicing plays a significant role in bookkeeping, as they're a great way of tracking sales, benchmarking your company's (monthly/quarterly/yearly) performance, managing finances, and paying your taxes. 
Optimize your invoicing process with Billdu!
Invoicing, expense tracking, quotes, automation.
Learn why Billdu is one of the most popular invoicing apps in Australia.