Simple Invoice Template
Generate custom invoices with our simple invoice template, or go above and beyond with your business documents and use Billdu's Online Invoice Maker.
Download one of our simple invoice templates
Looking for a free simple template for your business? Choose one of the templates below and download it format that suits you the best.
The ways you can create simple invoices
Create Invoices Easily with the Simple Invoice Template
Billdu lets you choose from a variety of simple invoice templates to create stunning documents quickly and easily. Use your favorite format and get our printable examples in MS Word, Excel, PDF, or Google Docs. 
Alternatively, you can satisfy your business needs with one of our country-specific fillable and simple commercial invoice templates for the UK, Australia, or New Zealand. Our simple invoice template is everything you need to get your invoicing started. Not to mention it's clean, modern, editable, printable, and free to boot!
Generate Stunning Branded Invoices with Billdu's Invoice Maker
Sometimes, manually filling out simple freelance invoice templates is the last thing you want. Small businesses should keep invoicing simple and time efficient. For those occasions, there's the Billdu Invoice Generator. Create stunning documents with unique branding elements, including logos and signatures, in only a few seconds and clicks. 
And if that's not quite enough, check out the Billdu Invoicing App. Track your expenses, add card payments, leverage advanced features, and of course, create any documents you may need on the go or from the comfort of your home whenever you want.
Other templates you can find useful
DO YOU WANT MORE THAN TEMPLATES? CHECK BILLDU APP
Do you want to do more than just generate documents with simple invoice templates? Is your business growing and you want to keep it organized? The Billdu mobile and web app can help you with all of that.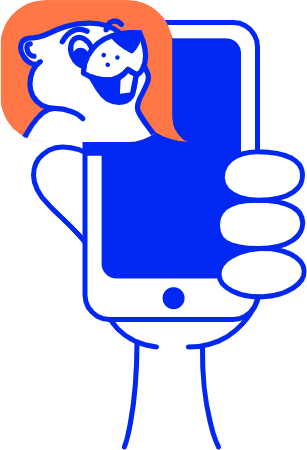 MOBILE AND WEB APP
Create your invoice templates directly in our app and keep your documents at one place and access them whenever you like. You can try it out with 30-days free trial.
2x FASTER PAYMENTS
Add a Pay Now button to the bill template and get paid up to 9 days sooner by accepting payments from online payment services. Nothing cheers up more than a settled bill!
DASHBOARD AND DOCUMENTS
Don't limit yourself with invoices only. Create estimates, quotes, delivery notes and more. Keep the track with our dashboard that gives you the greatest comfort for operating and monitoring your business.