Invoice App for iPhone
For everyone who needs full access to their business even outside the office. Fullfledged business management on your iPhone.
in Partnership with the best
Billdu iPhone app - invoicing and beyond
Invoice Your Customers in Seconds
Billdu iPhone app lets you create an invoice, estimate or purchase order in just a few seconds on your apple device. With few taps you can enter all the details you need including taxes, discounts, notes, attachments even client's signature.
Mobile invoicing was never easier. Billdu invoice app for iPhone is not only powerful but is extremely intuitive and easy to use.
Professional invoices
Impress your clients with your professional work and professional looking invoices as well. You can choose from our well-designed templates, select your company color, add logo and signature.
Customizing the invoice template in the iPhone app gives your business the opportunity to stand out. Our Billdu invoicing app for iOS device will help you impress your clients, while creating invoices with a few taps.
Send or print invoices right away
Create invoice in the iPhone app directly on location from order, quote or estimate in a few clicks. Create an electronic PDF file with one click and send it to your client straight away. With a printer supporting ePrint or AirPrint you can easily print out your invoices  directly from your Billdu iPhone app as well.
Invoice tracking app
Receive notifications when your invoice or estimate is opened by your client and get notified if invoices have been paid or overdue. Send personalized reminders to clients with overdue invoices. Stay organized and manage your invoicing agenda directly in the Billdu invoicing app for iPhone and stay on top of your business.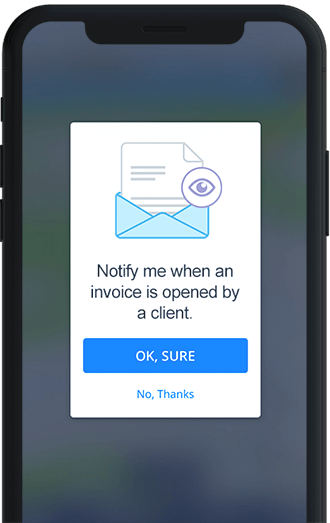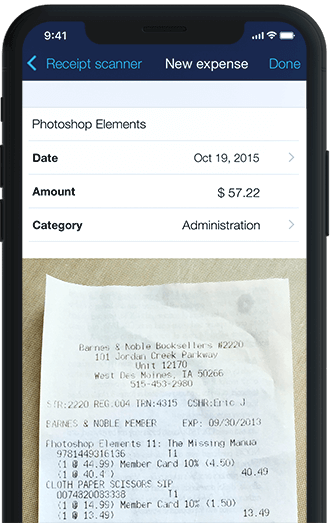 Add attachments


Billdu iPhone App allows you to attach photos and images from Gallery right to your invoices. Show your customers products and services they've received also on an invoice! For a more detailed information add title and description to attachments.
Get your documents signed


With Billdu mobile app for iPhones your customers can easily sign all your documents by finger right in the device. A signature with a name and time-stamp will be placed right onto an invoice.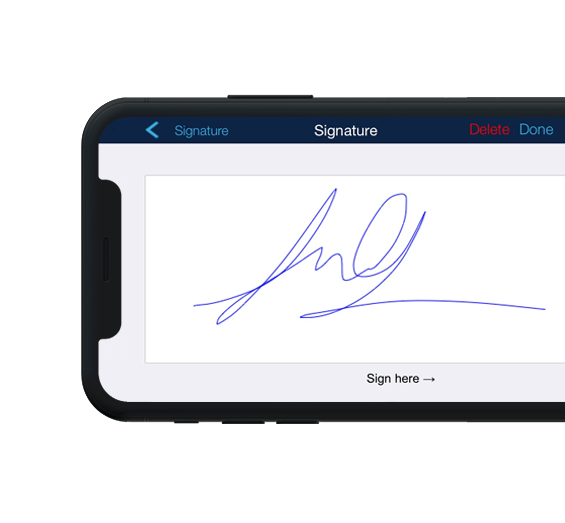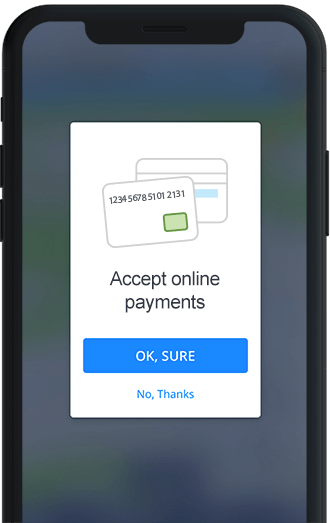 Get Paid Faster
Let your customers pay online with credit or debit card straight away. Add a Pay Now button to your invoices and receive your hard-earned money up to 9 days faster. Getting paid faster is now easy thanks to this powerful feature integrated in the Billdu iPhone invoicing app.
Save receipts and manage expenses
Tidy up your expenses. Save all in one place, don't lose a single one. Billdu app for your iPhone gives you the option of an uncomplicated expense management. Take a picture of a receipt or add an invoice as PDF-file directly from your e-mail app right to Billdu. The document will register among others in your Expenses section in both mobile app and website.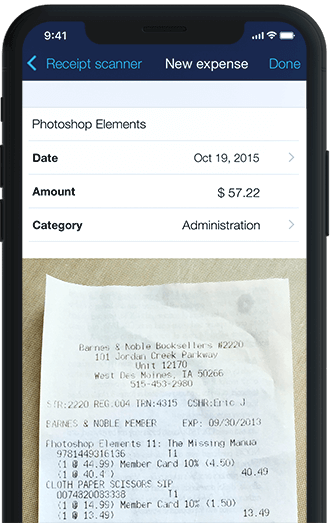 More Features of our iPhone App
Clear and uncomplicated statistics

Intuitive and user-friendly navigation

Simple editing and printing process

Synchronization across multiple devices

Invoices, Proforma invoices, Estimates

Quotes and Orders in the App

Inventory tracker and bar-code reader

Supports more companies, devices and users

iPhone app works even offline
Why Use Billdu Invoice maker app for iphone?
60% SAVED TIME
Creating invoices in the Billdu iPhone app enables you to achieve a high efficiency and invest the saved time in your business
2x FASTER PAYMENTS
Get paid up to 9 days sooner by accepting payments from online payment services.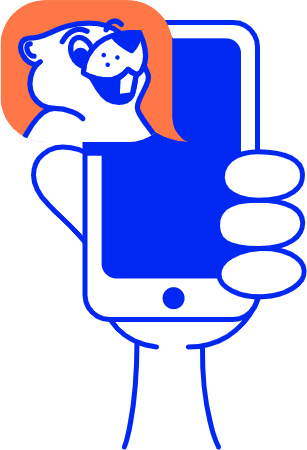 100% COMFORT
Billdu iPhone invoice app and online dashboard offer the greatest comfort for operating and monitoring your business
Maximum Comfort for Demanding App Users
Billdu offers solutions for iOS users, offering dedicated iPhone and iPad apps. We have an Android app for Android phones and tablets, too.
Create invoices on your ipad with our ipad invoice app.
get your business online faster
Your idea is only the beginning. Push forward, we've got your back! Add services, manage bookings, products, quotes—of course, all from a single app.
Yeah!
let people do the talking
.
Good Record keeping, Great service help and a good connection steadfast and easy to use it is also simpler to use the other invoice apps I have used previously.
Quick way for my small business to operate. It's great to be able to add things on the fly.
Love this app I can send I customer a invoice or estimate before I leave their driveway!
I have needed assistance and chatted with them on the weekends, even after i have gotten the automatic message that someone will get back to me Monday morning. They have helped me in any issue i have had with my cleaning company The Busy Bees. They make any interaction feel like your a part of them. Thank you Billdu team for always helping us through our intricate times. 5 star customer service!! And if you're in business you know customer service is everything.
Very good app for the price I do all my estimates and invoices on here but they offer way more stuff. Easy to use I'll recommend it to my buddy's
A&A landscaping & fencing llc
The app is really easy to use and very convenient. Would recommend it to all small businesses
Love It. It's amazing for a business that's just starting off like mine. I'm glad i found this app. It's so easy to use!
Awesome awesome awesome. I can't say enough of how user-friendly this app is in regard to sending estimates and invoices and the ability to pay from the electronic invoice
Best billing app I have ever used. My start with this app was shaky because the way explained on the App Store it would be billed monthly but they removed the entire years worth from my account which was low at the time. I was impressed by their rapid response and willingness to help me and keep me as a customer. I am glad I stuck around because it turned out to be the best app I have used for billing and recommend it to anyone with a business regardless of size or industry.
The app is super nice when you're on the go and having to send invoices to customers right then. The only thing is confusing is the buying options. I had to start buying it per month because my other subscription stopped working.
Great App. I love billdu it makes my life easier to bill my customers on the go, easy to use smart phone app
Very easy to use. This app has really helped my business be more mobile and agile. No more paper copies and files to have to keep. All invoices are saved and the total amounts are tight at the top of the app. I like being able to easily track how much my business has made right at my fingertips.
blue water creative solutions
This app is very easy to use, much better than the previous app I was using, great for tradies, can invoice straight off my phone, brilliant !!!!
Super easy and very professional
Gives a great presentation. I am not tech savvy the app works great to me I am a one man handyman and I love being able to send out estimates that look good and it goes fast I also use it for billing a and keep all my stuff in one spot
Amazing app for business owners. This app is simple and easy to use. I love that I can send estimates and invoices from my phone.
Incredible, clean, easy. No drama and a staff always in touch. App of the PANDEMIC!
Absolutely Crucial App for my Business! Easily the best quoting/invoice/CRM App out there! I tried them all and Billdu takes the cake! Really love the logo customization option and how you can get notifications when a customer opens and views an invoice/estimate etc.
This app is very easy to use, much better than the previous app I was using, great for tradies, can invoice straight off my phone, brilliant !!!!
The best application that I never forget it. Good app for own business. I used it almost two years, it work well and best support from their work team. If you wish to operate your own business, please do not miss this app! It was helpful for your business.