Do you belong among those, who want to try something different, try something of their own? A successful business is no easy task and to kick off your own startup as a first step can be daunting indeed. We have prepared a six-part series, in which we will guide you through the many aspects of getting a startup of the ground and the various tools and resources which may help you on this path.
1. Idea generation
To start your own business, you first need to find a problem that needs solving. Ideally, a problem which penetrates every-day life and bothers a lot of people. Try to find solutions to these problems and you're well on your way.
Helpful tools for idea generation:
Too many awesome ideas die in lost notes and cleaned up whiteboards. Germ.io lets you capture every eureka moment and helps you execute it. Never lose the big picture of your idea, starting from logging the "aha" light bulb moment that can occur at any time. Germ.io gets you on the road to creating actionable ideas, helping you define all the how's, what's and why's you need to get going.
Use the lean validation/experiment board to describe, validate and refine your business idea. The Experiment Board (by Javelin) is a tool that was developed based on the learnings from their first tool, the (Lean) Validation Board, which was used by over 20,000 entrepreneurs around the world. The Experiment board is free to download (pay with a Tweet) and includes a PDF, a Google Spreadsheet version, and instructions.
2. Naming
For many, the big one. Creating a catchy, easy-to-remember and NOT taken, registered or trademarked is a great feat and indeed, can spell success or failure for many projects. Think hard and plan ahead.
Helpful tools for naming:
Discover a perfect company name with Naminum. Naminum is the leading startup, company and website name generator on the web. Enter a word and Naminum uses prefixes, suffixes and replaces letters within your keyword to generate a (huge) list of name suggestions. Didn't find a satisfactory name? Try with a new word, transform the current one or generate random names for additional inspiration.
KnowEm allows you to check for the use of your brand, product and username instantly on over 500 social media websites.Check if your brand, product, personal name or username is used on 500 popular and emerging social media websites. Grab your name and secure your brand before someone else does. Search over 500 popular social networks, over 150 domain names, and the entire USPTO Trademark Database to instantly secure your brand on the internet.
3. Domain names
Try to plan the domain name and your brand's name simultaneously as many domains today are taken or held for buy and sell purposes. Your domain name does not necessarily have to be exactly the same as your company's name.
 Helpful tools domain names:
GoDaddy DomainFinder is the new domain search app that lets you build your own domain name with the world's largest domain register.
Build your domain from scratch. Enter a few keywords to tell the App what you're looking for (it can even suggest some), and DomainFinder serves up a list of sweet, available domains. Check availability and register your domain in a flash. You'll never run out of options because DomainFinder recommends great names from hundreds of new domain extensions that range from .guru to .fail.
Namecheap makes registering, hosting, and managing domains for yourself or others easy and affordable. They are a leading ICANN-accredited domain name registrar and web hosting company. They have over a million customers and more than three million domains under management. Namecheap provides affordable access to domains and the products and services to help you make the most of them.
4. Hosting
Another important one. Your website's loading speed, reliability, and security hang on good hosting, so no cutting corners here. Research the providers in your area and on a global scale to get a feeling for what the general offer is.
Helpful tools for hosting:
BladeWP is a web hosting business that offers secure and fast WordPress hosting. Their main goal is to satisfy their customers, and therefore, they guarantee you satisfaction when using their hosting service. They provide a clear and simple explanation of their products and if any help for setting up is required, the people behind BladeWP are always prepared to help you. With fast WordPress hosting, excellent service and, most importantly, very content customers, BladeWP is a wonderful company to host your websites.
There are many hosting companies out there, but for a WordPress site, Bluehost should definitely be at the top of anyone's list. Bluehost is a hosting service officially recommended by WordPress and has been the number-one recommended hosting service for their platform for almost 10 years. Their service includes unlimited websites, email accounts, and domains, one-click WordPress Install, premium customer service and custom-built servers to provide a stable and reliable hosting environment.
5. Market research
Although market research is in the first five steps of startup life, it actually accompanies the side of each and all steps along the way. You constantly need to keep a clear overview of the market, of your customers, trends, and numbers to be able to keep up and offer only the best and only what the people want.
Helpful tools for market research:
Google Trends is a public web facility of Google, based on Google Search, that shows how often a particular search-term is entered relative to the total search-volume across various regions of the world, and in various languages. The horizontal axis of the main graph represents time (starting from 2004), and the vertical is how often a term is searched for relative to the total number of searches, globally. Below the main graph, popularity is broken down by countries, regions, cities and language.
Validate demand or usability on a clickable prototype or live feature with Validately.
Validately is an online platform that enables users to user test a prototype or feature before coding it. Users are able to validate the demand and usability of clickable products, recruit product-specific testers, and analyze the results by watching user videos. Validately is the easiest way to recruit testers, launch tests and analyze results.
So there you have ti folks! The first five steps you need to take and the tools to make them a lot easier. Join us in the next part of our startup series, in which we will discuss forms and surveys, mockups and wireframing, design, development and deployment.
Today, we want to present you a couple of apps that – according to our humble opinion – should be in every small business owner's smartphone. Or at least in the smartphones of those, who do business in the digital world or have an own website/e-shop. There are hundreds of apps and solutions for everyday problems. That's how the App Store and Play Store look like nowadays. Yet the trend to have 100+ different apps installed for every use-case is slowly fading away. Developers are concentrating their efforts on complete sets of features and on packaging them in simple and easy to use interfaces. Here are our favorites:
Mindmeister
Visualizing your ideas is the most powerful way to communicate them to others. With MindMeister's built-in presentation mode you turn mind maps into beautiful, dynamic slideshows within seconds. As soon as you're done you can export the slides as PNGs, embed the whole presentation on your website, or even broadcast it live to your collaborators online.
Download Mindmeister for your mobile device:
HootSuite
Your presence on various social sites is almost absolutely necessary, mainly because of effective communication with your clients and customers. All your accounts – Twitter, Facebook, Instagram, Linkedin and others can be managed from one application – Hootsuite. The app is free for up to 3 social accounts, which can be completely controlled. Automatic publishing of posts, statistics and conversions – all that thanks to Hootsuite and in the palm of your hand.
Download Hootsuite for your mobile device:
Billdu
"For anyone, who needs access to their business even when out of office. Complete management of your agenda, directly in your pocket." This is the motto of Billdu, an app that lets you create, print and send invoices on the go. Additionally, you can create estimates, credit notes and proforma invoices, keep track of your costs and bills and view various statistics. This one is certainly a must-have for those who do their business outside of an office or for those, who simply need to keep track of it, even when traveling.
Download Billdu for you mobile device:
Toggle Timer
Almost any activity is trackable and in most cases time is the one thing you need or should keep track of. Toggl is a popular app for time tracking of your various activities and mainly serves as a tool for transparency towards clients, the simple management of the working hours of your employees or for the growth of your personal productivity. Its main features include a cloud solution for saving data, a simple and clear input of tasks and their state of completion. Export of reports and schedules, synchronization between the mobile and web app and cost-free use for teams of up to 5 peop
Download Toggl for your mobile device:
Evernote
Evernote is at first glance a simple note taking app, yet with its in-depth note management and formatting, you can use it for practically anything. Task lists, to-do lists, grocery lists, or notes, you name it! It works cross-platform on your PC and mobile device and the only downside is, that it can be a little complicated for some people.
Download Evernote for your mobile device:
These apps have an almost universal character of use and surely, most of you will find them effective. Of course, there are others – many more great and practical applications for your smart devices. Depending on the niche in which you operate, maybe other types of apps would suit you better. Hopefully, we have shown you, at least one, which you didn't know until now and one that will make your business and life easier. If you have your own tips and recommendations for great apps, that no business owner should overlook, don't hesitate to share them with us in the comments below.
Invoicing and invoices have been here since the beginning of business and like everything else, it too has evolved over time. Professionals no longer rely just on paper invoices, hand signed and stamped with their company's logo. In today's digital world, we have more modern, more practical means of creating invoices and we should indeed embrace them. They not only conserve the environment by not using paper but also offer additional "bonuses", which physical invoices simply aren't able to. Let us take a look at what a modern invoice should entail, both visually and functionally.
The look
1. Clarity
A modern invoice should be simple and neat. Its main focal point has to be the most critical information for the receiver – the price, due date and the bank account number where the payment should be made. These elements are critical for the whole invoicing process.
2. Logo and signature
Each and every professional invoice should contain a logo, which is unique for your company. Furthermore, you have to be able to add your logo and a signature or stamp without a huge effort. Modern invoicing toolallows you to create a signature directly on the mobile device and simply "sign by finger."

3. Color scheme
Your company has(or should have anyway) a brand and strict visual guidelines. That extends towards invoices as well, of course. A digital invoice can have the feature of changing the color scheme to fit with the logo or your overall branding.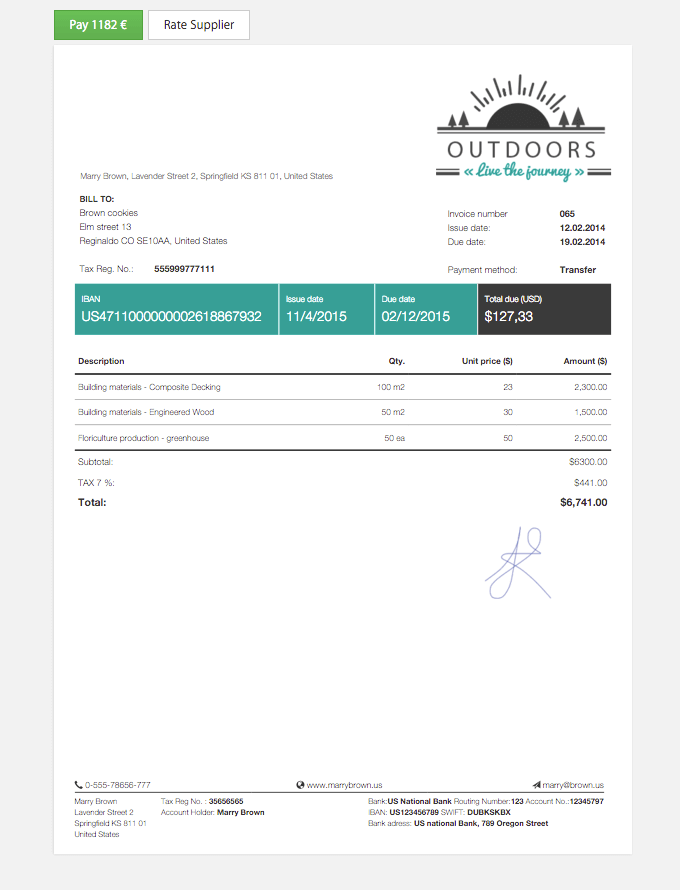 Sample of a professional invoice from Billdu
We've also created a separate article about what does an invoice look like for you.
The functions
1. Language and currency
Unlike a traditional invoice, printed on paper, a digital invoice has advantages that can only be found in this medium. With a simple click, you can change the language or the currency of your invoice(without the need to recalculate all of the prices), according to your client's needs.
2. Fast payment
In the case of Billdu, you have a "Pay with PayPal" button directly on your digital invoices, so the client can pay immediately, without going through the hassle of making a bank transfer or using an otherwise slower payment method.
3. Feedback
Every business owner should strive for as much feedback from their clients as possible. Without it, how could you know whether your products or services should or shouldn't be improved upon. With Billdu's online invoices, your clients have the option of writing a review whenever they receive your invoice.
Without a doubt, modern invoices are here to stay and hopefully, cause the gradual "extinction" of paper invoices. The added functionality and effective management of paperless invoices will surely benefit anyone who decides to go this way. If you still don't believe in the obvious benefits of paperless invoicing, just try it for yourselves. Right now, right here and absolutely free of charge. Create and manage invoices anywhere and anytime, with Billdu.